Schedule of Events September 1-4, 2023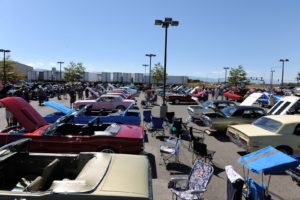 The schedule for all the exciting events for this current year's show are being developed. (Please note that there are no events on Thursday this year) You will need tickets for the banquet, so decide now what works for you and register soon. There is also a fun golf scramble on Friday mid-morning for those who are interested. On Saturday after the car show, there is an opportunity for drag racing in Anaconda.
On Sunday, there will be drives, tours, a second Show & Shine as well as opportunities to golf and swim. Stay tuned for more details yet to come!
Registration Process
IMM 44 Online Registration for this year's show. Tickets for the events and Banquet sell out early and most likely will not be available on site, so please register for those events now to secure your spot! Ticket deadline is August 15, 2023 for all event tickets. In addition, if you want a t-shirt, you must pay for it during the registration process as additional t-shirts may not be available during the event.
Hotel Information
The host hotel is Fairmont Hot Springs with special pricing and limited quantity. Contact them directly to reserve your rooms and ask for Group ID #27769. Staying here includes passes to the hotsprings pool and slide. THIS HOTEL IS FULL!!

Room rates are: $199 for double; $214 for triple; $229 for quad (plus fees and bed tax)

The Fairmont RV Resort a few hundred yards from the Hotsprings, and reservations can be made through their website. People staying here will have to pay a daily fee to use the hotsprings pool ($15 per person) and the slide ($10 per person).
Alternate hotel is in Anaconda and brand new! The Forge (406)797-4100. Use code IMM44 for special pricing.
There are also a number of hotels within 10 minutes located in Butte and Anaconda, are look for Airbnb's.
Want to stay up to date with all the info?
Follow the IMM on Facebook – look for Bridger Mountain Ford Club
Next up for IMM…
The 2024 show will be held in Canada. Stay tuned for more details!!